Inspector Inland Revenue FPSC Past SOLVED Paper 2013 || Completely solved download pdf
Inspector Inland Revenue 2013 Past Paper will help in preparation of 492 posts  of IIR announced  by FPSC in August 2021. We have collected questions from the past papers which will be helpful in the preparation of test as per FPSC syllabus of Inspector Inland Revenue 2021. Following mcqs were asked in past papers of Inspector Inland Revenue FBR  2013. Download FPSC solved past paper Inspector Inland Revenue in pdf.
Past Paper of Inspector Inland Revenue 2013
Part 1 English
A. Write the Synonyms (words in closet in meaning) of the following given words
Gracious (A) Pretty (B) Pleasant (C) Clever (D) Present
Kin (A) twist (B) Exult (C) friend (D) Relative
Predict (A) fortell (B) decide (C) discover (D) Prevent
detest (A) Argue (B) Hate (C) Discover (D) Reveal
Remote (A) Automatic (B) Distant (C) Savage (D) Mean
B. Write the Antonyms ( words in most nearly the opposite of the word provided)
Luminous (A) Clear (B) Dim (C) Brittle (D) Clever
Withdraw (A) reduce (B) need (C) advance (D) want
Secret (A) Friendly (B) Covert (C) Hidden (D) Overt
Heartfelt (A) Loving (B) Insincere (C) Unhealthy (D) Humorous
Impartial (A) Hostile (B) Biased (C) Dislike (D) Worried
C. Which is the correct option
Ali is afraid _____ spiders. (A) from (B) in (C) About (D) of
We arrived _____ the station an hour late. (A) About (B) In (C) at (D) of
I am worried about the exam. (A) about (B) in (C) at (D) of
He looks upset, i think he took the criticism _____ heart. (A) to (B) in (C) About (D) of
I am envious ______them (A) of (B) in (C) about (D) on
He confided _____me. (A) about (B) in (C) on (D) of
They decided _____ the pink sofa . (A) about (B) on (C) of (D) in
She suffers ______ a heart disease. (A) about (B) in (C) from (D) on
I am good ____ tennis . (A) About (B) in (C) at (D) of
The teacher set some homework ______the end of the lesson. (A) about (B) in (C) of (D) at
Professional test (80 MCQs of 80 Marks)
Taxable goods means all goods other than those which have been exempted under section:  (A) 12 (B) 15 (C) 13 (D) 11 
The goods specified in the Fifth Schedule shall be charged to tax at the rate of: (A) 17% (B) 16 % (C) 19% (D) 0%
Tax fraction means the amount worked out in accordance with the following formula: . (A) 100+ a (B) 50+a (C) 150+A (D) None of these.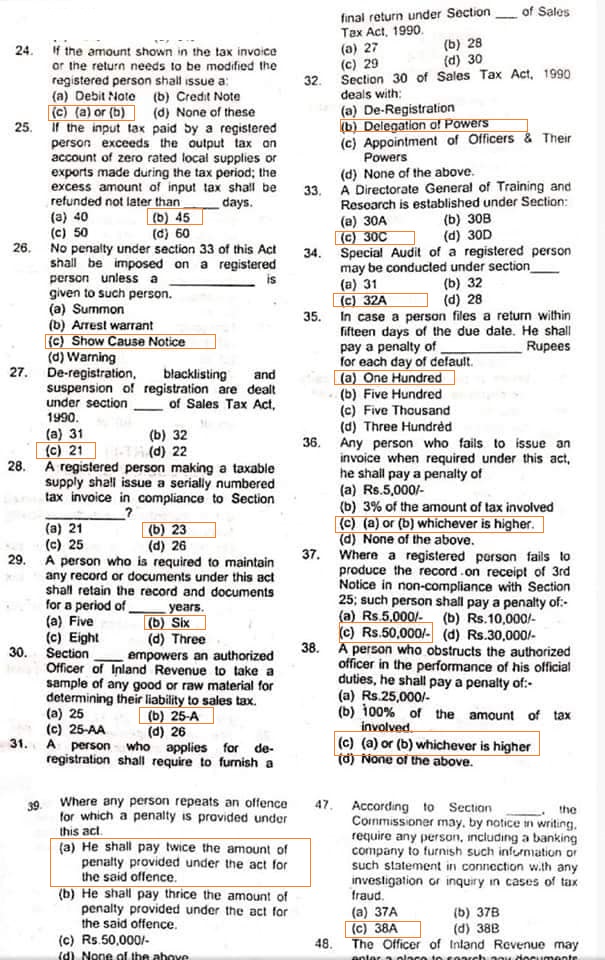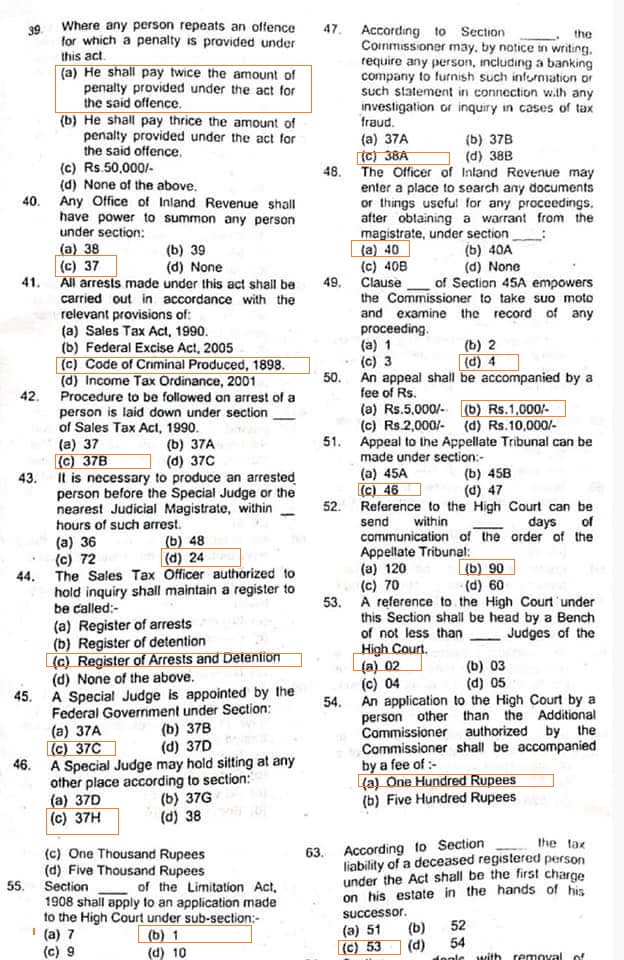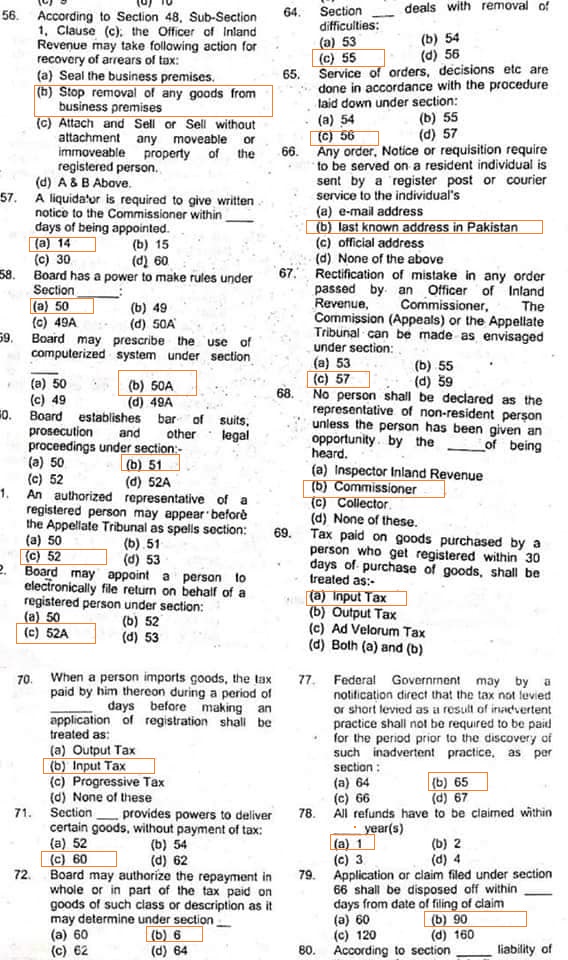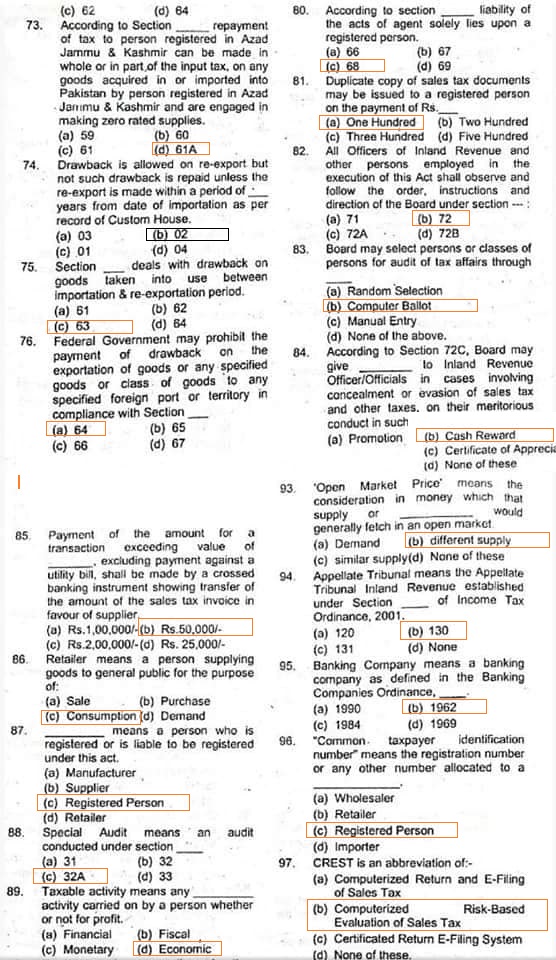 Download Inspector Inland Paper 2013 in pdf
See Also
Sub Inspector Model Papers SOLVED
PPSC Lecturer Guide Books & Past Solved Papers for All Subjects
General Knowledge MCQS (Solved)- Taken from past papers of FPSC, PPSC, NTS, FIA, Police, etc…
FIA Jobs Syllabus & Course Outlines and Complete Data for FIA Exams/ Tests
Lecturer Islamic Studies Test Guide for PPSC, FPSC, NTS etc. Exams
Lecturer Math Guide PDF Book for PPSC, FPSC, NTS Exams for the post of Lecturer Mathematics.
FBR Inspector (BS-16) Inland Revenue jobs 2021 – by FPSC
PPSC Chief Officer/ Municipal Officer SOLVED Paper
Test preparation Data for the post of Assistant (BS-16) in Disaster Management Department (Board of Revenue)
PPSC Solved Paper of Assistant (BS-16) held on 03.07.2021 by PPSC
FIA Recruitment Guide 2021 for Assistant, Sub Inspector, ASI, UDC, LDC
One Paper Guide for PPSC, FPSC, NTS etc.
Ministry of Defence (MOD) all past Solved Papers
FIA Constable Guide- Complete Book by Dogar Publishers